Field Service
DEX provides 4PL Field Service solutions that position your technicians where they're needed most and equip them with the intelligence they need to quickly resolve any situation, reducing your total cost to serve. Real-time voice and data connections to the field allow you to optimize utilization of both your workforce and your vehicle fleet as well as communicate with customers to manage expectations improving overall customer satisfaction. Mobile computers and data capture tools empower workers with the information and tools they need to: work faster; track and bill all labor, parts and materials used; meet contractual obligations; and even grow your business during service calls through up-sell or cross-sell opportunities.
---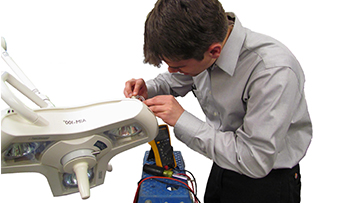 Choose DEX as the only maintenance toolset your company will every need. Our project managers, engineers, technicians, and IT personnel are among the best in the industry, and we respect your needs as if they were our own. DEX's field service solutions will enable your and your clients' projects, systems, networks, and high-tech facilities to deliver the top-quality results they are intended to. We're committed to doing what's right for your business to make things work, so let us handle your installations, maintenance, training, project oversight and any other on-site service needs your business requires.
From the simplest to the most complex issues, DEX provides its partners with effective, custom turn-key solutions that allow you to save time and money, while always having access to the right tool for the job.